In an age where everyone is suffering from information overload, generative AI is seen as only amplifying the overwhelming amount of content in our feeds. But what if it also held the solution to this problem?
This was what serial entrepreneur Ian Mendiola is trying to achieve with his GenAI-powered news summary app, Gem.
"We want to address the problem of everyone's limited time, hoping to enable people to access news more efficiently and simply," Ian says.
Introducing 'Tik-Tok-style News'
Gem doesn't greet users with the traditional cluttered grid layout common to many news apps. Instead, it offers a streamlined experience with one headline displayed at a time. Users can swipe left to see the next news item or swipe up for three AI-generated key points from the article. For those wishing to delve deeper, the original news link is available below.
"We aimed to create a Tik-Tok-style news summary app," Ian says. He adds that Gem was the result of two inevitable trends he saw occurring in unison: first, GenAI being used more and more for content creation, and second, waning appetites for long-form articles.
This led Ian to think about how the undying need to acquire new knowledge persists, so presenting it in a "short and even shorter" manner might be the novel approach busy modern people needed.
That's why Gem's presentation mirrors Tik-Tok's one-piece-at-a-time format, proving more intuitive and user-friendly than conventional news aggregators.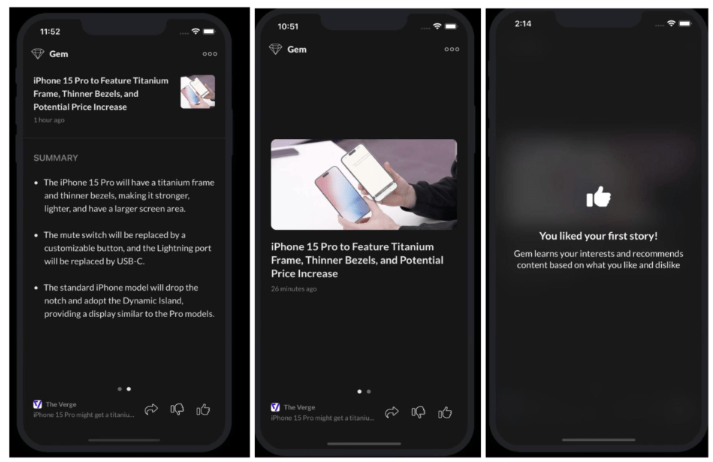 GenAI helps Gem users say goodbye to TL;DR
A GenAI-driven news app is not a market first – Instagram co-founders Kevin Systrom and Mike Krieger released such a news reader called Artifact earlier this year. But unlike Gem, opening Artifact still presents traditional news categories and multiple headlines. To view AI-generated summaries, users must manually select an option to see the top three points.

This is where Gem challenges most news app conventions, defaulting to "summary" view with the full article just a tap away. While Artifact needs about two steps to reach a summary, Gem caters more to "point-driven" readers, behaving like a no-nonsense, straight-to-the-point personal news reporter.
Expertise in reading apps leveled up by OpenAI
Ian was by no means flying blind when he entered the news app space. He had been ahead of the market when he launched the English reading app Umano in 2012. The app received many positive reviews and was loved by users. It was later successfully acquired by Ian's former employer, Dropbox.
However, the exit did not diminish Ian's passion for product design.
He explains that after integrating OpenAI's model, Gem's development team underwent extensive adjustments and training to perfect summaries for readers. This includes pinpointing the crux of news stories, prioritizing elements like people, events, times, and places to distill the top three takeaways from lengthy articles.
How Gem nabbed two-times the notification click rate of other apps
Currently, the click-through rate for Gem's notifications stands at 16%, which is twice as high as other apps. In terms of user retention, 44% of individuals continue to use Gem within 30 days of their first use.
For a free software, those numbers are impressively solid. According to Ian, these achievements are based on multiple factors.
First is personalization. Ian says that many apps tend to "shoot in the dark", sending users completely irrelevant content. However, during the product development phase, Gem's team went from scoring based on common criteria such as view numbers to utilizing GPT-4 to analyze the context of articles and examine interactions between these articles and the readers.
Ian emphasizes that during their analysis, Gem's engineers went beyond just examining metadata or descriptions. They truly dove deep into understanding the content of articles, ensuring that every notification sent out was genuinely meaningful for the user.
The team then used GPT-4 again to craft notification messages. They referenced writing styles from previous successful notifications, aiming to significantly increase click-through rates for these alerts.
"When using text to capture a user's attention, you only get one shot," Ian says. He explains this is because a news app like Gem doesn't have the same community and interaction elements found in other social media platforms. It cannot rely on interactions or connections among friends to attract attention.
Therefore, when Gem sends out notifications, it must wholly rely on its chosen text to captivate users. Every word sent out in a notification has to be a home run.
Ian believes that the era where generative AI radically transforms the content industry is approaching quickly, and that this will, "mold a content experience distinctively different from what we've known before."
Gem has officially launched in North America and Asia.
Takeaways:
Ian founded Gem to resolve two issues he saw occurring: GenAI being used more and more for content creation, and waning appetites for long-form articles.
Besides presenting news in a Tik-Tok style format, Gem distinguishes itself by using GenAI to find news most relevant to users and extract the key points for summary.
Gem's team successfully used GPT-4 to expand its CTR to twice that of competitors.

This article has been contributed to AsiaTechDaily.